The Victoria Day long weekend traditionally signals the start of the driving season and with pandemic measures easing for the time being, people are eager to get rolling. Valleyview can likely look forward to a reasonably busy camping season around town and an uptick in travellers as Albertans bust out camping gear, shake off winter and safely get some fresh air after weeks indoors.
A Surge of Nature Lovers
According to Alberta Parks Instagram account, the demand for camping is "exceptionally high" this summer with nearly 40,000 individual campsite reservations at the time of posting. Golf courses, parks and campgrounds have already began opening for the season as art of the Alberta Relaunch Strategy. Many of our highway service businesses have remained operational during the pandemic in a limited, usually drive thru, capacity and are ready to safely service visitors.
"The demand for camping in Alberta Parks is exceptionally high this summer due to limited capacity for physical distancing, national parks not accepting reservations at this time, and out of province travel discouraged by health officials."- Alberta Parks
Crocus Hill Gasoline Alley Turns 65
2020's driving season is an especially important one in Valleyview besides just being a chance to shake of a rough start to the year. Here in town we are also celebrating the 65th Anniversary of our highway! In 1955 the Whitecourt Cutoff was completed and signalled the opening of a more efficient corridor from Edmonton to the Peace Country. In 1955, the then Village of Valleyview, became a bustling highway stop and our gasoline alley sprung up. Businesses were built along the east side of Highway 43 to serve travellers and  a number of the buildings are still there today. Travellers, the Hi Valley Motel and others, are legacies of that building boom.
Working On Our Strengths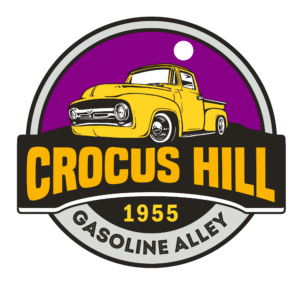 While events and gatherings have been mostly postponed due to Covid-19 the Chamber is nearing completion on a pair of synergistic projects that are all the more important given the current economic situation. The Chamber has been working with businesses and the Museum Society in an effort to bring recognition (and business) to our gasoline alley. In an effort to better market what we have to offer we have been updating our tourist materials and highlighting the services and history of our Crocus Hill Gasoline Alley. This way, we can talk about Valleyview as a destination for travellers in and of itself, a place to add to their travel plans much like travellers along the Calgary-Edmonton Corridor see Red Deer. Like Red Deer, we are a mid point situated geographically about half way between Whitecourt and Peace River or Whitecourt and Grande Prairie. Unlike any other town our size we have a full menu of restaurants, an enviable ratio of hotel rooms to population, and established auto services. There's no better time than 2020 to share our story, celebrate our history and boost Valleyview's image.