Hi my name is Ken Zenner, I am running for Mayor of Valleyview. I'm currently semi-retired, I enjoy spending time with family and doing my part in recycling , reusing and repurposing. I enjoy building new things that may seem impossible and tinkering with old things. After the pandemic began I found a great need to come back out of retirement to help teach my kids and grandkids the old school ways of survival, hunting, canning, gardening etc.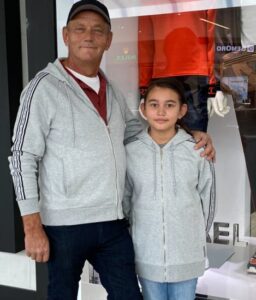 What do you consider makes you qualified to be mayor?
In the past I've experienced multiple trades, everything from infrastructure to mechanical. I am a natural born leader and I strive to inspire others to work together and be the best versions of themselves. I have a lot of life experience in general and have been a blue collar working man my whole life. Everything that I have in the business that I have run in the past was my own. were based on mathematics and experience. And personal experience did not affect it, nor should it. After moving back to Valleyview to help my kids out, I realized it wasn't just my kids that needed help. After seeing 60% business doors closed for various reasons. I already have the capabilities to draw in business investors to our town. To help rebuild job stability for our young people, instead of them leaving to go find a job. Under the circumstances of the pandemic, we do have to put together teamwork within our town council. to make all of this possible. As I've talked to lots of existing business owners, they feel the same way. That some of the rules, regulations and guidelines need tp be amended to suit our towns needs for its survival.
What do you see as priorities for the next four years? Please list three. 
*Amending some of the bylaws already in place that have a big city price tag on them. That small businesses are having a hard time with. They simply cannot afford to both in the same day, as you know some of these businesses took 50 years to get it right.
* Bring in awaiting investors to create new businesses and new jobs. As we know new jobs mean bigger workforces, which means new housing etc. But the new business owners who are ready to come here are having serious issues with the bylaws that are imposed on them before they even start.
*Creating more community engagement and events (outside of course). Such as museums and spring and fall heritage days. This would also help the economy for the town of Valleyview. Encouraging more participation for things like Canada Day and Christmas parades.
How will you work with the other members of council to achieve community goals?
All we know from the past, most business owners do want to sit down and communicate with the Mayor with questions and concerns in most cases. So therefore I would take the questions and concerns and submit it to each council member for any possible changes or remedies to help business and residents more forward in an easy way.
How will you work with others who have drastically different views?
In the past my suggestions have been, weighing out the greater good of the differences. Of course we all do share different views. But I believe with compromise and talking out difference we can achieve a common goal in making the best choices for our community.
Have you volunteered in our community? If so, when and in what capacity?
Back when my kids were in grade school i voluntarily drove school bus regularly for field trips and sports games. I've also held several charity auctions for less fortunate people, that have experienced house fires and had no insurance. A majority of the rest of my time was living in the country and sharing my services with those who needed at no cost.
Have you served in a leadership role in the community (i.e as a member of a board, committee, coach, etc.)
No i haven't served, but i have assisted many events with the agplex with sponsorships.
Making way for new investors to start building way sooner rather than later.
How will you work to improve the business environment in town?
To review all existing bylaws and amend them as needed to help our current businesses thrive and assist new business getting up and going. The bylaws have left no room for step by step initiates to get started. Again this is members of our community asking and telling my this. So yes I would bring this to council for some sort of reconciliation to make it easier for all businesses to thrive. Right now the bylaws say all or nothing. The fines start when the harassment starts.
As most people see downtown stars glamourize retail stores or some sort of mini strip mall. I strongly disagree with seeing multiple commercial spaces that would accommodate more retail space being used for storage yards. We also have to work with businesses and landowners to make our downtown and highway corridor more vibrant and attractive for tourists and new residents of Valleyview.
Most of the municipal developments are already in place. My goal is to fill them up with businesses which will create more and better jobs. Better jobs means more people can afford to buy or build houses. Better job classes means stable out existing businesses as well as bring in new ones. There is never an end to building the town for the future of our kids and grandkids. Whether its me or someone else doing it, I live for it.
Valleyview has experienced decades of near-zero population growth. Do you have any insight or ideas on how to remedy this?
Yes, in order to grow population its very easy. We have to open the door for more businesses to come here, We don't have to break laws to do this. Like I have said, Valleyview has over priced itself with the cost of getting started. Basically at the expense of our young peoples jobs. We have no growth because someone didn't like a business that wanted to come here or for some unknown reason. But yet any other other town or city that has a variety of businesses are doing quite well. We need to attract more people to move here and want to stay here. I already have multiple business and investors that want to come here within the first year. And i will do what i can to support them because its what our town needs.
How will you make our community more resilient for the future?
I'm sure that this pandemic has and will continue to teach us a lesson that we never expected. Especially when 30% of the community didn't even have a computer or access to the internet. Just in this case alone made a lot of people go without. And why? Because everything immediately went to ordering online, requested it online, recorded it online, did their banking online and so much more. Left a lot of seniors and less fortunate in a land of unknown because they didn't know how to use it or were without. yes we had access to library computers but they were closed. Including Alberta works computers were are still closed. Somehow we need to build some sort of a network station for out seniors and less fortunate.
With regards to truth and reconciliation, how will you move forward?
In regards to reconciliation, with our surrounding communities we do need to schedule more meetings of some kind in regards to events, culture barriers and mending old fences. To help create similar prosperities' instead of differences, and putting them together and holding them up and supporting them. I everyway we can. Because with them it would mean the word team. To work through and work with any all conundrums. We also need to learn, listen and respect each others cultures for healing to begin. No one should be looked down on for any reason. That's what brings fairness to the table.
I am a very ambitious person. When some people say no it cant be done for various reasons. I accept the challenge of finding ways to do it. Because if there's a will there's a way. I've always been self motivated and don't quit until i get the job done or succeed. When I come back to help my kids, like i said i realized lots more needed help. I seen a lot of past people and businesses that were here gone. Everyone i used to know died and moved on. Driving around the industrial park fell short of almost being a bone yard. Now i am now a senior. There's a lot of practical experience, more than enough experience to help rebuild our town. I don't use my personal opinion for much, but i do use mathematics, common sense and practical experience. I do also know how to grind the investors with just mathematics that are willing to build businesses, create jobs which would in turn create more housing and strengthen our community. With this being said it would bring in new stores to accommodate the needs of the community. As well a new younger talent in trades of all kinds. And yes this is all possible in the first year. With putting together great teamwork and effort with the town council members as soon as possible. The federal government said, they were going to release more federal funding for infrastructure work, for housing, for a better quality of life, for better paying jobs, and with more sustainable resources. With that bein said it makes me more motivated to request this for our town. for whatever services and resources that we can pull into our town. will create all of the above. Because right now am sad tp say my grandkids cant even afford to ge to the multiplex. the less fortunate definitely cannot afford it, this is why we need to make any and all necessary changes possible within out powers to let our town grow at a rapid speed forever. Its obvious that the past 50 years Mayor and council did not do their jobs the way they could have or should have. After October 18th win or lose I will continue to motivate in anyway possible, even as an advocate. For me its not about the money, its to give our young people and future generations a chance. We all know many of younger people have left town over the past 50 years in search of better jobs and more out of life. A percentage of our in town business owners do want to make a difference and want entitlement to vote. Because they live outside of town they cant, because they have no say so it creates a big shortfall of support to our in town events and otherwise. That is also why so many businesses moved out of town. So this should be addressed somehow to bring their support back.
Thank you, Ken